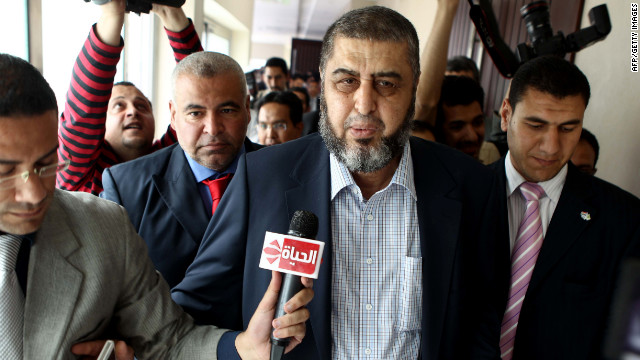 Ten of the 23 nominees running for president in Egypt -- including Muslim Brotherhood candidate Khairat el-Shater and former Vice President Omar Suleiman -- have been disqualified and cannot run for the nation's top job, the head of Egypt's executive election committee said Saturday.
The disqualifications are due to "legal irregularities," and the 10 candidates have 48 hours to appeal to the committee, which in turn will respond in 24 hours, Hatem Bagato said.
"Omar Suleiman was banned because he did not collect the 30,000 endorsements from 15 different directorates in Egypt but obtained them from several cities only, which is not legal," Bagato explained.
Bagato added that both el-Shater, the Muslim Brotherhood's No. 1 choice, and Ayman Nour, the head of the Al Ghad party, were disqualified for issues surrounding their unresolved pardons for time in prison.
Alaa Ayad, a campaign spokesman for el-Shater, called the disqualification a "political decision" and said the party's lawyer will appeal it.
"This decision may cause tension on the streets," Ayad said.
El-Shater is a multimillionaire businessman who spent 12 years behind bars under Mubarak's rule. He is awaiting a court decision regarding his eligibility to run after a pardon granted by the ruling Supreme Council of the Armed Forces was challenged in court.
Hazem Abu Ismael, the ultra-conservative Islamist, was banned due to information that his mother holds an American passport, which is against the rules of candidacy, Bagato said.
A representative for Ismael issued a similar warning as Ayad, saying the candidate's "followers are angry and will take to the streets until he is allowed to run."
The Pentagon has put in an order for prototype contact lenses that give users a much wider field of vision.
The lenses are designed to be paired with compact heads up display (HUD) units - glasses that allow images to be projected onto their lenses.
Much bulkier HUDs are already deployed by the US Army and Air Force to superimpose data about targets and other status updates over users' views.
The tech could help troops enhance their awareness on the battlefield.
The iOptik system's developer, Innovega, told the BBC it had signed a contract earlier this week to deliver a fully-functioning prototype to the Pentagon's research laboratory, Darpa.
The US Department of Defense had previously funded part of the Washington-based firm's initial engineering work on the project.
"The new contract gives us an immediate opportunity to start prototyping and demonstrating elements of this new system," Innovega's chief executive Steve Willey said.